Recent News
Current Thoughts and Comments
November 5, 2020
October market review
Dear Clients and Friends of the Firm:
The market through October continued to make the case for a steady approach to investing, especially as we find ourselves in a historically volatile time – the months surrounding a U.S. presidential election – amid a historic, complicated year.
In general, we remain optimistic, even as the market has experienced mixed news dominated by the pandemic and the responses to it.
Improving economic activity and promising corporate earnings helped the S&P 500 start to climb out of its September gloom. However, those gains were met with increasingly concerning reports of a third wave of COVID-19 outbreaks across the U.S., with a record rate of new cases reported, and a resurgence of the virus in Europe. It all feels a little one step forward, two steps back – but that has been the case for most of 2020.
As a result, the S&P 500 has closed lower for the second consecutive month. But, "despite the decline in equity prices, the credit market has shown little sign of stress," Raymond James Chief Investment Officer Larry Adam said, a sign of underlying confidence.
Fiscal stimulus remained a hope, but as the month continued, investors' expectations seemed to cool, adding to government-related uncertainty as the election drew closer.
If President Donald Trump is reelected, we could see a package before the December 11 government funding expiration date, Washington Policy Analyst Ed Mills said. A Democratic sweep would likely result in a larger package, he added, but it may come in stages through the early part of 2021. We believe the biggest market risk is a prolonged, uncertain or contested election.
Though October ended with broad reductions across the mainstream market indices, it's important to remember that even with the uncertainty and volatility of the year, investors have managed to hold the line, showing an optimistic, if cautious, view of the future. Here are the numbers: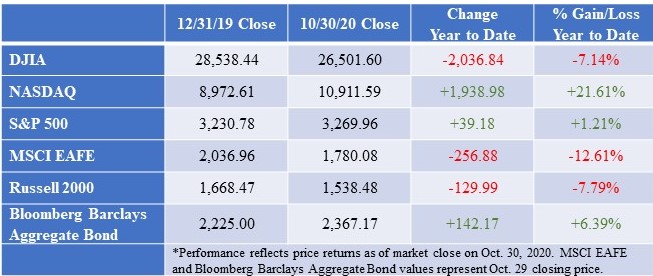 And here's a brief look at some other points of interest across the economy and the world:
Gross domestic product rebounded in third quarter
The gross domestic product saw a record increase from July through September, reversing about two-thirds of the plunge it took in the second quarter. Housing and durable consumer goods made up the bulk of the gain, with the service economy continuing to struggle.
Corporate earnings above expectations
There are good reasons to see the recent pullback as an opportunity to buy while keeping in mind that volatility could remain high in the near term, said Joey Madere, senior portfolio strategist, Equity Portfolio & Technical Strategy. With about one-third of earnings season to go, third quarter earnings results have come in well above expectations, leading to a 13.4% increase in full-quarter estimates so far.
Fixed-income investments snap back to safety
The election, the pandemic and their economic consequences have spurred uncertainty among fixed-income investments, as well. Yield curves steepened through the month as investors seemed to get comfortable with the idea of forthcoming stimulus and reacted rapidly when those expectations diminished, said Doug Drabik, managing director, fixed income research. The 30-year versus 1-year Treasury retracted swiftly as we saw a return to safe-haven investments.
European and Asian markets show different virus impacts
European market indices have taken a hit as new restrictions are implemented and fears about the economy have risen, said European Strategist Chris Bailey. In Asia, led by China, markets are trading flat-to-upward as pandemic concerns abate.
"As international equity markets typically remain more lowly valued than their American equivalents, this highlights a potential diversification role they can play in investors' portfolios," Bailey added.
European Union carbon law moves forward
Pending European Union legislation that would set a net-zero carbon dioxide emissions target of 2050 was approved by environment ministers this month. The law would also expand the current decarbonization requirements for 2030. A final decision will be made December 10 and 11.
The bottom line
In a normal year, it's not uncommon to see the S&P 500 experience three or four pullbacks of 5% or more. As fatigue about COVID-19 and the election diminish, we expect to see the market focus more closely on fundamentals, which we believe will improve as we move into 2021.
Wall Street watching election results
So now we wait. Like long-term investing, this election has required perseverance, persistence and patience. If you're anything like us, you have anxiously awaited the outcome of this seemingly unending election cycle. And truth be told, all elections appear more crucial than the one before – this one in particular as we deal with the ongoing pandemic and seek answers to uncertainty surrounding the global markets and economies, taxes, monetary policy and further fiscal stimulus.
Initial results, including some from closely watched battleground states, caused the markets to rally Wednesday morning. While markets don't like ambiguity, they have a historical habit of climbing higher over time regardless of who is in the Oval Office.
As history tells it, the domestic equity markets and economy simply aren't affected in the long term by who's in power in Washington, D.C. The major indices climb and dip within the first weeks of any victory – right, left or center. In 17 of the past 23 national election years, the S&P 500 index has ended the year in positive territory. In fact, the broad-market index averaged an 11% annual return through the past seven decades over a variety of administrations. Gross domestic product (GDP), a popular indicator of the health of the U.S. economy, also generally appears apolitical, performing well under any party.
Given the twists and turns of 2020 thus far, volatility is to be expected – no matter which party has control of Congress and/or the White House. But while we can expect the first few days after the election to be rocky, chances are good that the markets will eventually stabilize in the near future. Over the years, we have not seen any meaningful party-driven difference in long-term portfolio performance; but we do know that maintaining a consistent strategy under any market conditions has led to success for many investors. Time will likely prove that disciplined investors who stay the course will be the true winners.
In the meantime, we'll keep our eyes open for any legislative changes or economic updates that could affect your financial plan. And we will do what we can to position your portfolio for the weeks, months and, more important, years ahead, and not the power shifts in D.C.
While stocks and politics have had an interesting and varied relationship with every campaign cycle, we encourage you to focus more on your personal long-term financial goals. The end of the year is a good time for us to discuss your tax-planning strategy and how to best position your portfolio for 2021 and beyond.
We hope this message finds you well. Thank you, again, for the trust you have placed in us. If you have any questions or concerns, please do not hesitate to reach out.
Sincerely,
Tricia
Tricia L. Tripp, CPA, CFP®
Financial Advisor
Securities offered through Raymond James Financial Services, Inc. Member FINRA/SIPC. Investment Advisory Services are offered through Tripp Financial Consultants, Inc. Tripp Financial Consultants, Inc.is not a registered broker/dealer and is independent of Raymond James Financial Services, Inc.
Investing involves risk, and investors may incur a profit or a loss. All expressions of opinion reflect the judgment of the authors and are subject to change. There is no assurance the trends mentioned will continue or that the forecasts discussed will be realized. Past performance may not be indicative of future results. Economic and market conditions are subject to change. The Dow Jones Industrial Average is an unmanaged index of 30 widely held stocks. The NASDAQ Composite Index is an unmanaged index of all common stocks listed on the NASDAQ National Stock Market. The S&P 500 is an unmanaged index of 500 widely held stocks. The MSCI EAFE (Europe, Australia, Far East) index is an unmanaged index that is generally considered representative of the international stock market. The Russell 2000 is an unmanaged index of small-cap securities. The Bloomberg Barclays U.S. Aggregate Bond Index is a broad-based flagship benchmark that measures the investment grade, U.S. dollar-denominated, fixed-rate taxable bond market. An investment cannot be made in these indexes. International investing involves special risks, including currency fluctuations, differing financial accounting standards, and possible political and economic volatility. Investing in emerging markets can be riskier than investing in well-established foreign markets. Investing involves risk and investors may incur a profit or a loss.
Material prepared by Raymond James for use by its advisors.